Watashi no Tsubasa is the ending of season 4 from episodes 1 to episode 13 and from episode 31 to final episode.
Lyrics
Chotto hazukashii kedo tsubasa hirogete miru
Iro mo katachi mo chigau watashi dake no tsubasa Habatake
 
Kyou no watashi ano koro yori ookiku mieru desho
Anata no te mo koete yukeru
Sonna kimochi sora ni maiagare
 
Waratte ita naite ita ano toki no basho mo
Hekondeta hashaide ita takusan no toki mo
Anna ni chiisaku mieru kedo
Kokoro ni ha afureteru "Arigato"
 
Nani mo shiranai koro ha kizukanakatta kedo
Itsunomanika sodatteta watashi no chiisana tsubasa
Tobitate
 
Kagayaku kaze karada juu de konna ni kanjiteru
Anata kara no yuuki daite
Tonde yukeru donna sora datte
 
Oshaberi shita kenka shita ano toki no basho mo
Shikarareta tokimeiteta takusan no toki mo
Modoranai keredo mune no naka
Taisetsu ni shimatteru "Arigatou"
 

 
Itsu made mo itsu made mo "Arigato".
ちょっとはずかしいけど つばさひろげてみる
色も形もちがう わたしだけのつばさ
はばたけ
 
今日の私 あの頃より 大きくみえるでしょ
あなたの手も 越えて行ける
そんな気持ち 空に舞いあがれ
 
笑っていた 泣いていた あの時の場所も
へこんでた はしゃいでいた たくさんの時も
あんなに小さく見えるけど
心にはあふれてる ありがとう
 
何も知らない頃は 気づかなかったけど
いつのまにか育ってた 私の小さなつばさ
飛びたて
 
かがやく風 からだじゅうで こんなに感じてる
あなたからの 勇気だいて
飛んで行ける どんな空だって
 
おしゃべりした けんかした あの時の場所も
しかられた ときめいてた たくさんの時も
もどらないけれど 胸の中
大切にしまってる ありがとう
 
☆Repeat
 
いつまでも いつまでも ありがとう.
I feel a little embarrassed, but I spread my wings.
Both colour and shape are peculiar, the wings are only for me. Flap.
 
Probably today I look bigger than myself in those days.
I can go beyond even your hands.
My such a thought, I'll fly up to the sky
 
The place where we were laughing or crying, in those days.
Many times when we were discouraged or frolicking.
Although those look so small,
my heart is filled with "Thank You".
 
When I didn't know anything, I couldn't find it.
It has grown before I find, my small wings.
Fly away.
 
I'm feeling shining winds on the whole body so much.
I'm holding the courage from you,
and can fly to any sky.
 
The place where we talked or quarreled, in those days.
Many times when I was told of or beating fast.
Although those don't come back, I'm keeping those
in my heart carefully, "Thank You".
 

 
Forever forever "Thank You".
Videos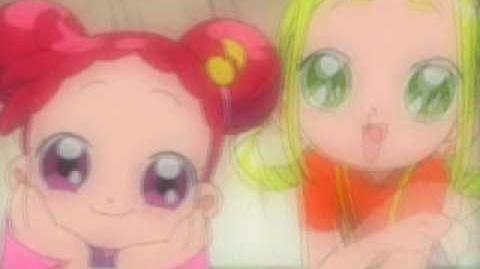 Ad blocker interference detected!
Wikia is a free-to-use site that makes money from advertising. We have a modified experience for viewers using ad blockers

Wikia is not accessible if you've made further modifications. Remove the custom ad blocker rule(s) and the page will load as expected.