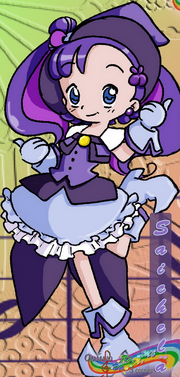 Saichela Hearth
is a full born
witch
, born on March 3rd. She is currently eight years old and lives in Raintown, since she was six.
Saichela was made by ErzeanChatten as part of Ojamajo DaReNiMo.
Personality
Likes: cats, magic
Dislikes: Mondays, being woke up, cat-haters
Favorite foods:
Hate foods:
Appearance
Saichela is a fair skinned girl with light blue-purple eyes. She has very long, deep purple colored hair, streaked with lighter purple. It consists of a few bangs to one side of her head, four small buns, and curly pigtails with a little bit of hair worn down. She wears a blue headband with a purple violet.
Saichela's outfit consists of a blue top with a dark purple tank top over it, matching bracelets, a white pleat skirt, hair clips, gold necklace, and a pair of blue socks with purple shoes. 
Witch Information
Saichela is a violet themed witch. Due to being full-blooded, she didn't deal with the same struggles that most apprentice did.
She also has her own unique outfit, and her instrument was the guitar.
Spells
Magic: Poipawiwi Loli Lali Paiwilippo Woi
Transform:
Magical Stage:
Her crystal ball is a purple star, and she has a fairy named Sasa. Sasa is a light lilac themed fairy with a simplified version of Saichela's hair and also has a hair clip like her. They share a similar personality.
Family
Background
Saichela was born from a violet flower in the witch world. Her and her mother left the witch world around the time she became six for a city known as Raintown.
Quotes
Trivia
Saichela is called "Sai" by some.
Originally Saichela had a normal ojamajo uniform. One resembling Onpu Segawa's.
Gallery
Ad blocker interference detected!
Wikia is a free-to-use site that makes money from advertising. We have a modified experience for viewers using ad blockers

Wikia is not accessible if you've made further modifications. Remove the custom ad blocker rule(s) and the page will load as expected.