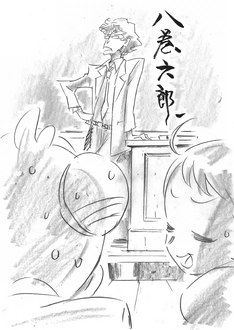 Rokurou "Leon" Yamaki
is the teacher of
Doremi Harukaze
and
Aiko Senoo
during
Ojamajo Doremi 16
. He is an older gentleman that neither girl found to be all that attractive, even comparing him to a reptile and dubbing him Leon.
He is married with a wife named ___, and knows Seki-sensei due to the fact that both of them are avid motorcyclist. As well as the fact his wife attended the same school that she did growing up.
Personality
Like any other teacher, Leon is strict with his students. But he is caring over them if he thinks something is wrong or he can lend some advice, as well as check up on them from time to time. He wont hesitate to serve punishment either, should a student act up.
He is a big sports fan too, mainly of the Giants team and will argue with anyone who claims any other team superior. He also works as an assitant-boss to the schools soccer team, and has other qualities one wouldnt expect of him.
Appearance
History
Quotes
Trivia
He smokes, and is one of the characters said to do it or be shown doing it. He was said to smoke unfiltered cigarettes.
Gallery
Ad blocker interference detected!
Wikia is a free-to-use site that makes money from advertising. We have a modified experience for viewers using ad blockers

Wikia is not accessible if you've made further modifications. Remove the custom ad blocker rule(s) and the page will load as expected.