Kitto Chanto Onnanoko is a song that Doremi sings.
Lyrics
Yume naraba ippai arukedo
Hitotsu wa yappari deeto desho
Hareta nichiyoubi takai sora no shita de

Kami ni wa ribon o maichatte
Furiru no sukaato haichatte
Itsumo yori mo otona bite warau no

Sonna souzou dake fukura masu to
Mune ga kyunto natte jugyou sae uwa no sora

Datte ne motto ne onnanoko dayo
Genki dake ga jiman janai
Kitto ne chanto ne onnanoko dayo
Sokon tokoro chotto yoroshiku ne

Daisuki na amai aisu yori
Kisu wa amai to kiita keredo
Aa, doushiyokkana~ sonna toki ga kitara ! ?

Koi ni koi o shiteiru dake to
Mama ni wa warawareru sore demo
Otome chikku na kokoro wa tomaranai

Itsuka uchi aketai koutei hashiru
Akogare no ano ko ni suki desu to massugu ni

Dakedo ne yappa ne onnanoko dayo
Yuuki ga madamada tarinai no
Kitto ne chanto ne onnanoko dayo
Sokon tokoro zutto yoroshiku ne
夢ならばいっぱいあるけど
ひとつはやっぱりデートでしょ
晴れた日曜日 高い空の下で

髪にはリボンをまいちゃって
フリルのスカートはいちゃって
いつもよりもオトナびて笑うの

そんな想像だけ ふくらますと
胸がキュンとなって 授業さえうわの空

だってね もっとね 女のコだよ
元気だけが自慢じゃない
きっとね ちゃんとね 女のコだよ
そこんところ ちょっとよろしくね

大好きな甘いアイスより
キスは甘いと聞いたけれど
ああ、どうしよっかな~ そんな時がきたら!?

恋に恋をしているだけと
ママには笑われる それでも
乙女チックなココロは止まらない

いつか打ち明けたい 校庭走る
憧れのあのコに 好きですとまっすぐに

だけどね やっぱね 女のコだよ
勇気がまだまだ 足りないの
きっとね ちゃんとね 女のコだよ
そこんところ ずっとよろしくね
Video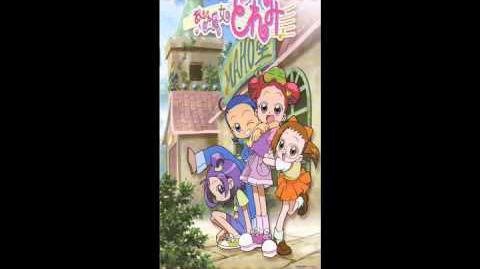 Ad blocker interference detected!
Wikia is a free-to-use site that makes money from advertising. We have a modified experience for viewers using ad blockers

Wikia is not accessible if you've made further modifications. Remove the custom ad blocker rule(s) and the page will load as expected.