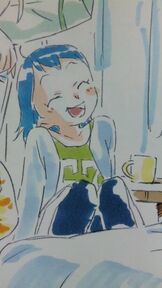 Aiko Senoo is a character in the Ojamajo Doremi 16 light novels. Her featured book is novel 3, Turning Point. 
Aiko transferred back to Misora as a student of Misora Prefectural High, after her mother got a job at a brand new nursing home. She has been working hard as a member of track, participating in many sporting events. For a short while she was dating Anrima Kenichi, until seventh grade when he made an offensive comment about marriage.
Bio
Appearance
Aiko is a tall girl with tanned skin and dark blue eyes. Her lighter colored hair is nearly chest length and curls outward and thin, pointed bangs with a large curl at the corner.
Casually Aiko wears sporty or tomboyish clothing, such as denim pants, sneakers, and clothes with sports logos paired with a jacket or sweater.
Personality
Aiko has a lot of energy and spirit, but an overal easy-going nature. While easily annoyed at times, she is hard to provoke unless personally offended, and she often gets caught up bickering with other people in regards to sports. She cares deeply about her friends and often expresses concern for them if something is wrong.
16
Novel 1
Novel 2
Novel 3
17
18
19
Quotes
Trivia
Her favorite sports team is the T'igers.
Gallery