Seki is the class teacher of 6-1. The class contains 30 students. Doremi, Momoko and Hana visit this grade during Dokkan.
Class teacher
Students
Seating plan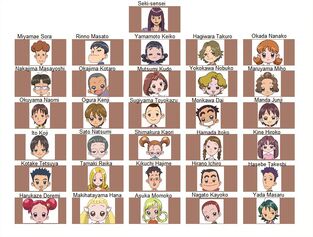 Trivia
6-1 didn't get a new student during the year.
Makihatayama Hana is new at school at the beginning of the school year.
They go on an excursion to Nara and Kyoto.
They go camping during the holidays.
Ad blocker interference detected!
Wikia is a free-to-use site that makes money from advertising. We have a modified experience for viewers using ad blockers

Wikia is not accessible if you've made further modifications. Remove the custom ad blocker rule(s) and the page will load as expected.